How to Straighten up the Curls of your wigs
Use these steps for straight closure wigs
From an afro to a natural, a curly wig is something that can make or break your look. However, if you are tired of your curls and you want to straighten out, how do you go about it? If your wig is too short, you can't just straighten it out with a blow dryer. Also, a lot of people do not know how to properly straighten a Brazilian wig.
We all want to have the ability to change our hairstyle, whether it's with a Brazilian kinky curly human hair wig or a curly wig. Hairstyle trends change frequently, so a girl has to keep up with them.
It is really hard enough to get the curls of your wig right, and it is even more difficult to maintain the curls. There are several reasons as to why your wig may not be holding its curls, but the first step to eliminating the problems is to identify what it is that is causing the curls to straighten out.
So, if you already have a curly wig in hand, why not just straighten it? Putting your wigs through heat-styling is much better than heat-styling your natural hair, anyway!
So, today we'll go over some amazing methods for straightening out the curls on your wigs:
How To Prep Your Curly Wig
Preparation is as important as the straight process itself. Put your washed and dried curly wig on a wig head made of styrofoam and fasten it using long pins to prevent it from slipping off.
Mist the hair with a heat protection serum. After that, comb your Brazilian kinky curly human hair wig to ensure it is not knotted.
Let's begin with the first and most often utilized way.
Straightening Up With A Flat Iron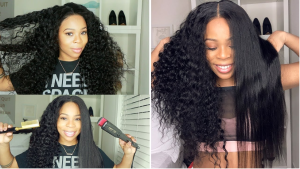 With a flat iron
Flat irons are popularly used in achieving a stunningly sleek and straight look. Follow these steps to straighten your kinky curly human hair wigs at home!
Check that the straightening iron is in good functioning order and adequately heated before putting it on the wig.
Begin flat iron to the bottom of the wig. Make sure to take up little strands of hair at a time. Remember that if the straightener is left on the wig for an extended period, the hair strands will scorch and irrevocably destroy the wig.
Grab a section of the wig hair with your comb and begin straightening it. We recommend using the chasing method as it is quicker. The chasing method involves passing a comb over it using a flat iron. You can use the chasing technique on your straight closure wigs as well.
Go over the section once more with the flat iron to ensure everything is smooth and pressed!
Once the bottom sections of the wig are pressed, proceed to the center section of the wig. You can go to the top when you've finished the middle section. The idea is to work your way up.
After the straightening procedure is complete, allow the wig to cool.
When the wig has cooled, comb it carefully, and check for any loose strands.
Trim the flyways to give the now-straightened wig a polished appearance. If you wish to keep the straight style, mist your Brazilian kinky curly human hair wig with hairspray to keep it from turning curly again.
Blow-Dry To Straighten Brazilian Kinky Curly Human Hair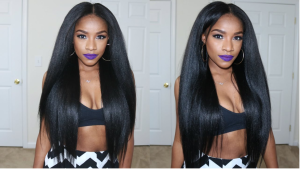 Look at that!
Straightening your Brazilian kinky curly human hair using a hairdryer is another technique that will provide you with a gorgeous bone-straight result.
Follow the wig prep mentioned earlier and get ready to straight up the curls if your kinky curly wig.
Begin from the very bottom of your curly wig. Pull up most of the hair in sections above, leaving a few strands at the bottom. Making distinct sections on the wig and starting one by one is the easiest approach to go about it.
Splash some water on the first section of your Brazilian kinky curly human hair wig that you want to straighten. This will assist you in maintaining the hair smooth while applying heat to the section. This will also assist in keeping your hair from being overheated.
Now grab your round brush and wrap it around the section. Grab your blowdryer and straighten it in a downward motion.
Brush curly wig hair strands while using the hairdryer with the other hand from top to bottom in portions. Keep the blow dryer in a warm setting and go over each section at least twice for the best results.
Once you've completed the first area of hair, repeat the process with the remaining sections. Apply hair serum to tame any flyaways.
Once you are done with the entire wig, you will notice a significant difference.
If you want a bone-straight result, apply a heat protectant and go over the hair with a flat iron.
How To Revert Your Kinky Curly Wigs?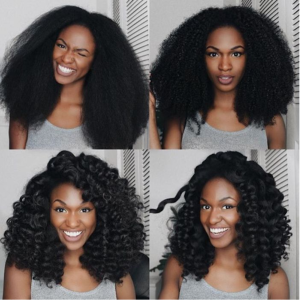 Restoring the curls
When you're done with the straight hairstyle and want to restore your Brazilian kinky curly human hair wig to its natural state, there's an easy way to accomplish it. Washing your wig!
Fill a container with water and mix it with a clarifying shampoo. Submerge your wig completely, then dip the wig in and out of the container. As you continue dipping, you will notice your Brazilian kinky curly human hair wig's curls restoring. Rinse the shampoo.
Follow it up with a conditioner and a deep conditioner for your curly hair wig, then let it air dry!
Conclusion
Did you know that there are some techniques you can use to straighten out your wig's curls? Wearing a wig can be a lot of fun. There are so many wonderful styles and options to choose from, and a wig can be such a creative way to change up your look. If you have curly hair, you may have considered wearing a wig with a rounded style, like a bob or a wavy cut. However, the curls on a wig can be difficult to manage.
These are the two most effective ways to straighten your Brazilian kinky curly human hair wig. Follow them, and you can go from one texture to another with ease! You can also use the techniques mentioned above for curly or deep wave closure wigs.
If you are looking for quality curly or straight closure wigs, head to True Glory Hair and choose from their collection of virgin Brazilian hair!