Guide – Style your Full Frontal Wigs in a Perfect  Way
Your guide to styling wigs
You will be able to curl, straighten, and color your wig according to the style you pick. Virgin hair 360 lace frontal wigs and full lace wigs are popular and help ladies achieve diverse styles.
Additionally, frontal wigs are a great protective barrier that protects your natural hair from damages and provides numerous styling options
These frontal wigs are also durable if you shop from the right brand. Frontal lace wigs are the finest alternative for a variety of reasons, including the fact that they conceal any damage to your real hair and give you the appearance of having a full head of hair.
Why Virgin Hair?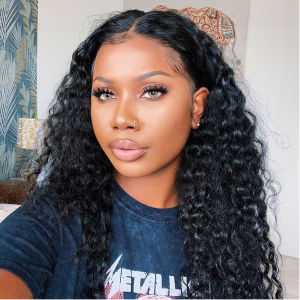 Gorgeous curly 360 lace frontal wig
Virgin human hair is soft and holds up well to styling manipulation. These wigs are also light, velvety on the skin, and durable if properly cared for. Furthermore, they provide you with endless styling possibilities and come in various styles such as long, curly, bobs, straight, or wavy.
Styles You Need To Try With Full Frontal Wigs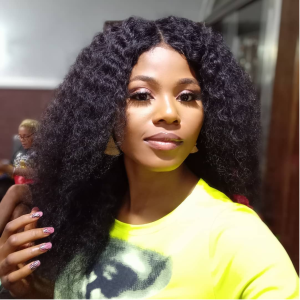 Our guide to styling your full frontal hair wigs
Here is the best style you can achieve with your 360 lace frontal and HD full lace wigs.
Center And Side Parted Hairstyle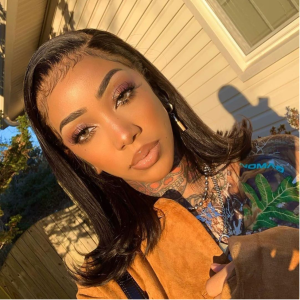 A stunning side-parted full lace frontal wig
Virgin 360 lace frontal wigs give users a plethora of styling options, one of which is the parting options. Parting your wig is a simple process that requires no effort or equipment. All you need is a rattail comb and a hairband. Install a 360 lace frontal wig or an HD full lace wig.
Create a split with the comb and smooth it out with hair cream or wet hands for a sleek and sophisticated look.
You can part your hair straight down the middle or on either side to suit your face.
Half-Up, Half-Down Style For The Gram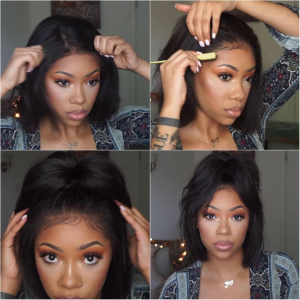 Instagram-worthy half-up style!
Whether you are going out with your friends or trying to get that 'gram-worthy hairstyle, a half-up, half-down is an amazing choice! But, how do you style it with wigs?
We have the answer!
It will be simple because you will be styling a 360 lace frontal wig! Install and let your wig hair down. Make a horizontal partition and secure the top section with a hair tie. Create curls, waves, or straighten the wig as per your styling desire.
The Sleek Center-Part For A Date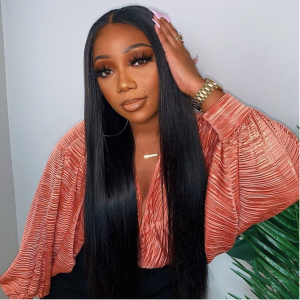 Sleek, long, center-parted style
This sleek center-parted style is a fantastic option for a first date. You want to make a statement and show your date what you've got on your first date! A sleek center-part with long straight hair is not only stunning, but it's also sexy and bold.
A long virgin 360 full wigs is the perfect hairpiece to recreate this look. Alternatively, you can also use HD full lace wigs for a seamless result!
Blunt Bob For An Everyday Look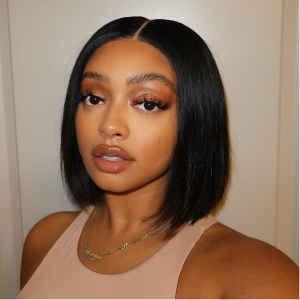 An everyday blunt bob style
A straight yet sleek over the sides of the face is a one-of-a-kind appearance for an everyday go-to. It not only slims your facial features but also lengthens your body.
You can easily find blunt bob virgin 360 lace frontal wigs human hair– and you won't need to spend a lot of time styling these wigs.
The Trendy Pigtails
The trendy pigtails with full lace front wig
A 360 lace frontal wig is one of the most versatile wigs ever! If you want to seem fashionable and charming, this stylish pigtails style is a must-try. Install your wig, grab a section of hair on each side, and secure it into pigtails.
The process is really simple and straightforward. Lay and style your edges to make your trendy pigtails style stand out!
Low Sophisticated Ponytail
Low sophisticated ponytail style
Try an easy low ponytail for a laid-back style that is also sleek and appealing with your 360 lace frontal wig.
This sophisticated ponytail hairstyle looks stunning with straight or kinky straight 360 full frontal wigs. The latter provides density, volume, and a natural look. Who wouldn't want that?
Pro Tip: This ponytail style is fantastic for work. Pair it with a stunning blazer suit.
Bottom Line
There are various ways to style your virgin hair 360 full frontal wigs, some of which have been clearly explained above. There are no boundaries on how you can artistically style and wear your wigs; it mostly depends on the style preference, color, and length.
If you need premium quality lace or HD full lace wigs, we definitely recommend checking out True Glory Hair. The brand is loved by influencers, stylists, and women alike for its amazing virgin hair collection.
True Glory also has headband and closure wigs, bundles, and everything a woman could ever need!